Our dishes are made of fresh local ingredients.
The area around our hotel is rich in fresh food from the mountains, river, and sea.
Anjuan uses these local ingredients to prepare delicate, seasonal dishes.
Our local seafood and vegetables are exquisitely fresh.
Enjoy your meal in a relaxing atmosphere with all five senses.
Dinner
Kaiseki course meal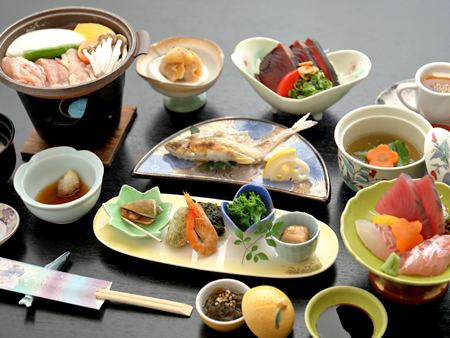 Basic dinner course included in the half-board plan.
Our Kaiseki course meal consists of 8 popular local dishes, such as freshwater prawn and sea lettuce from the Shimanto River, known as Japan's last pristine river, as well as seared bonito.
Our meals are neither too large nor too small.
For those who want to eat more, the following Sawachi cuisine or separate dishes are available.
* Special Kaiseki course meal, an upgraded version with the same number of dishes, is also available. Please write it down in "Other Requests" section on the reservation form (costs an additional 3,000 yen/person).
Please note that it may not be available on some days due to the lack of stock.
Sawachi cuisine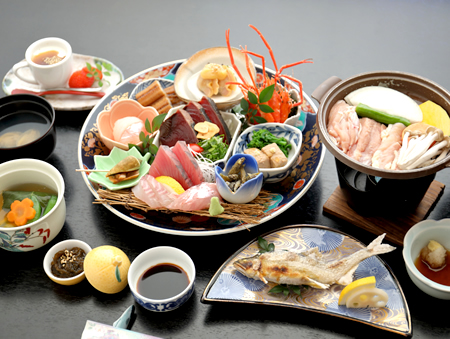 "Sawachi cuisine" refers to local dishes of Kochi Prefecture. They are served lavishly on a big plate and are indispensable for ceremonial occasions.
The food on the big plate is usually shared among many people on small plates, but Anjuan offers "Couples Sawachi" for two people to enjoy Sawachi cuisine.
Each place in the prefecture has its own Sawachi dishes. The Sawachi cuisine course has 3–4 more dishes than the Kaiseki course meal, including broiled eel, soy sauce-dipped goby fish, and seasonal sushi. It includes mostly local ingredients and is recommended for those who want to fully enjoy the local cuisine.
* Costs an additional ¥3,000 per person
* A "Single Sawachi" course for one person is also available for those traveling alone or in a small group.
Individual dishes
Á la carte dishes can be ordered during dinner.
A reservation is recommended, as the ingredients may be out of stock and dishes may take time to prepare.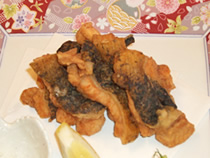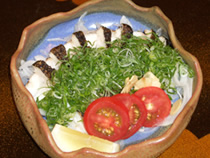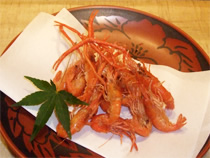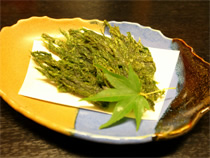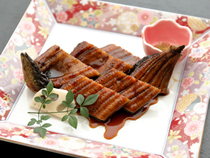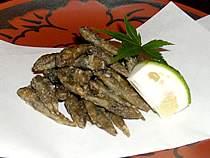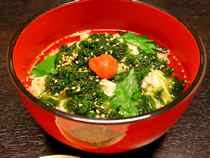 Sea lettuce tempura : 1,100yen (For one person)
Deep-fried river shrimp : 1,100yen (For one person)
Deep-fried goby fish : 1,100yen (For one person)
Broiled natural eel : Current price (1 eel)
Broiled ionized eel : 2,750yen (1 eel)
Seared bonito (with sauce or salt) : 1,540yen (For one person)
Deep-fried moray : 1,100yen (For one person)
Seared moray : 1,540yen (For one person)
*Some dishes may not be available in some seasons.
*All prices exclude tax.
Breakfast
Japanese set meal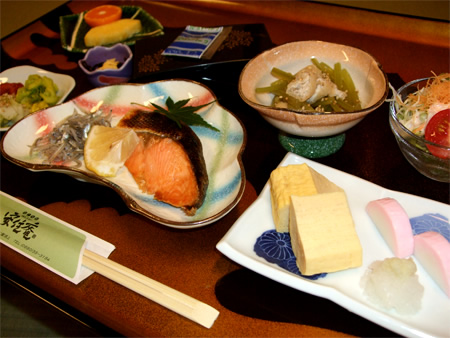 We cook locally produced rice with special care in a rice-cooker pot. Freshly cooked rice, our special miso soup, dried young sardines, and wild vegetables make a very healthy breakfast.
TATAMI Dining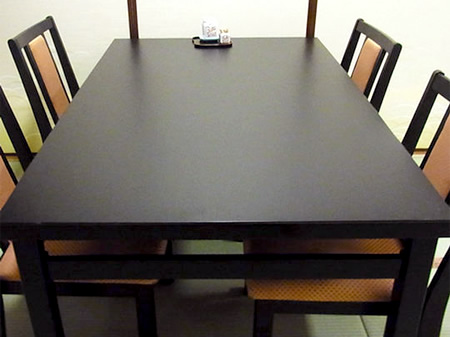 Dinner and breakfast are served in the restaurant "TATAMI Dining".
The restaurant has tables and chairs on tatami, and is easily accessible by the elderly and those with difficulties walking and sitting.
Drinks, etc.
Various local sake and shochu are available.